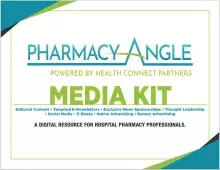 Media Kit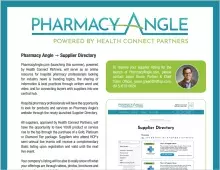 Supplier Directory Kit
Pharmacy Angle, powered by Health Connect Partners, is a digital resource for hospital pharmacy professionals looking to stay up to date on industry news & best practices, and who want the ability to easily find & connect with suppliers who can provide real solutions to their challenges.  
By advertising with Pharmacy Angle, you're growing your brand and telling your story to the most influential people across the hospital pharmacy industry and who control budgetary and purchasing decisions. In other words, our readers are the people who YOU want your brand, products, and services to reach!
Our easy-to-use Supplier Directory also provides your company the ability to really show off what your offerings are through videos, photos, brochures and documents, product detail pages, etc.
For information about display/banner ads, newsletter advertising, sponsorship, dedicated e-blasts, advertorials, supplier directory listing options, and much more, please contact:
Make the first move to building a better brand and establishing a new connection by downloading our full Media Kit and/or Supplier Directory Packages.